Ya actúa en el Cielo Lilia Aragón
POR KARLA GARCÍA
La actriz Lilia Aragón, estrella de programas como "Cuna de Lobos" y "María Isabel", falleció a los 82 años de causas no reveladas, de acuerdo con la Asociación Nacional de Actores (ANDA).
"La Asociación Nacional de Actores lamenta profundamente el fallecimiento de nuestra compañera Lilia Aragón del Rivero, quien fuera Secretaria General de nuestro sindicato durante el período 2006-2010", escribió el organismo en redes sociales.
"Nuestras sinceras condolencias a sus familiares y amigos. Descanse en Paz".
Cabe señalar que la famosa actroz se había instalado en una casa de Cuernavaca, Morelos, desde hace un tiempo por problemas de salud.
SEMBLANZA
Aragón realizó más de una treintena de telenovelas, algunas series de televisión y películas, y participó en obras de teatro de renombre nacional.
Entre sus producciones televisivas más populares se encuentran: "La Rosa de Guadalupe", "Mujeres Asesinas", "Como Dice el Dicho", "Abrázame Muy Fuerte", "Rubí", "Hasta el Fin del Mundo", entre otras; su último trabajo en la pantalla chica fue la telenovela "Vencer el Miedo".
En cine formó parte del elenco de largometrajes como "Los Recuerdos del Porvenir", "Veneno para las Hadas", "En las Manos de Dios", "Sin Sentido", y otras más; "Morgana", su última producción cinematográfica.
Presentó en teatro obras como "Bodas de Sangre", "La Casa de Bernarda Alba" y "Los Monólogos de la Vagina".
Obtuvo dos nominaciones a los Premios TV y Novelas a Mejor Actriz Antagónica en 1987 y 2006, por su labor en "Cuna de Lobos" y "La Esposa Libre", respectivamente, y su trayectoria artística fue acreedora a un galardón de la Cámara Nacional de la Mujer.
Guns and Roses hará las delicias de sus fans en su gira por México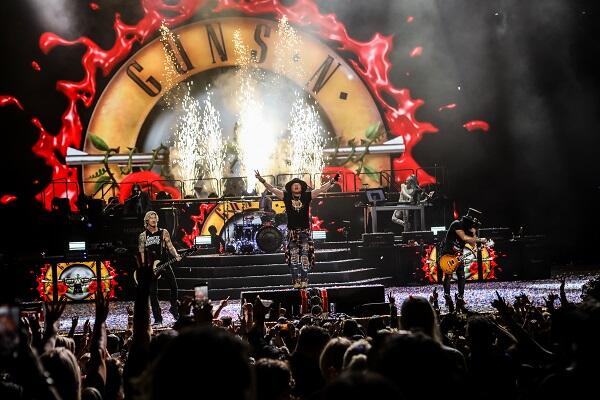 Una banda de rock muy exitosa en la historia de la música anuncia sus presentaciones en Mérida, Guadalajara, CDMX y Monterrey
KARLA GARCÍA
Una de las bandas de rock más exitosas en la historia de la música llega a México para presentarse en una gira que recorrerá cuatro de las ciudades más importantes del territorio nacional.
Esta gira comenzará en el sureste del país el 15 de octubre en la explanada de la Feria Xmatkuil en Mérida, Yucatán,  lugar que gracias al apoyo y respaldo del gobierno local y de la secretaria de Fomento Turístico de Yucatán, Michelle Friedman, recibirá el evento de rock más grande en la historia de la entidad.
Guadalajara será la segunda fecha en el calendario de la poderosa banda de Hard Rock encabezada por Axl Rose, Slash y Duff; el Estadio Akron estará encargado de albergar a los californianos en una noche plagada de sus éxitos más grandes como "Sweet child o' mine", "Welcome to the jungle", "November rain", entre otros, este próximo 18 de octubre.
MOLOTOV, INVITADO DE LUJO
Estas fechas contarán con invitado de lujo, con más de 25 años de trayectoria, muchos kilómetros recorridos y cientos de show encima.
Molotov es una de las bandas más icónicas del rock en español. Sus presentaciones en vivo son un explosivo cóctel Molotov que les ha dado el título de "la banda más poderosa de México".
MAGISTRAL CONCIERTO EN EL ANTES ESTADIO AZUL
Para continuar con la gira, Guns N' Roses se trasladará al corazón del país, aterrizando en el Estadio Ciudad de los Deportes (antes Estadio Azul) incluyendo así a la Ciudad de México dentro de su tour mundial 2022 que abarca más de 30 países en América, Asia y Europa, dando cita al público chilango el 21 de octubre, en una noche en la que seguramente nos sorprenderán con sus dos temas más recientes, "Absurd" y "Hard Skool", además de covers de emblemáticas bandas como The Beatles, AC/DC o Soundgarden, como lo vienen haciendo durante su "We're F'N Back Tour".
Para el cierre de esta gira por nuestro país, el 23 de octubre la ciudad de Monterrey y el Estadio Mobil Super serán testigos de lo que probablemente sea la última oportunidad que tengamos para disfrutar a estas leyendas en un concierto en vivo desde suelo mexicano.
La banda revelación del momento The Warning se encargará de la apertura de este show en el norte del país, pisando un escenario que no desconocen, "jugando" como locales en su tierra natal. Este trío de hermanas ha logrado posicionarse en la preferencia del público gracias a sus éxitos "Choke" y "Survive" con los que han alcanzado también el reconocimiento de los medios de comunicación y la escena musical no sólo a nivel local, sino de manera internacional.
Axl Rose, Slash y Duff, después de lograr llenos totales en su gira europea, hacen una parada en México para llegar con toda la fuerza, irreverencia y rebeldía que caracteriza a los miembros del prestigioso salón de la fama del rock. Podríamos continuar hablando de la grandeza que representa Guns N' Roses, pero queremos que seas testigo de estos memorables conciertos, adquiere tus boletos a través de las diferentes plataformas de venta y acompáñanos a vivir esta experiencia única.
INFORMACIÓN
MÉRIDA: 15 de octubre, Explanada Feria Xmatkuil.
Precio: Desde $2,140.00. Boletos: www.eticket.mx.
GUADALAJARA: 18 de octubre, Estadio Akron.
Precio: Desde $1,650.00. Boletos: www.lataquillamx.com.
CDMX: 21 de octubre, Estadio Ciudad de los Deportes (antes Estadio Azul).
Precio: Desde $490. Boletos: www.funticket.mx.
MONTERREY: 23 de octubre, Estadio Mobil Super (Palacio Sultán).
Precio: Desde $1690.00. Boletos: www.funticket.mx.
Con Sabrina hay Sabrok-sa relación sexual superplacentera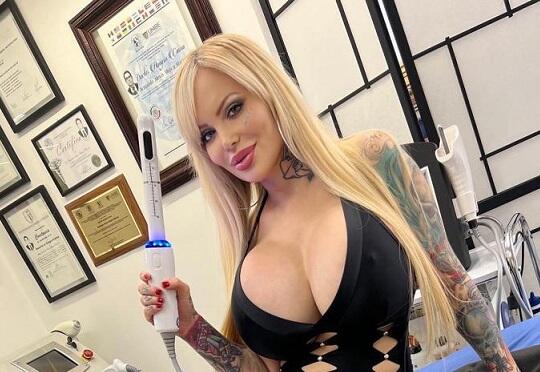 La exuberante actriz y cantante se sometió a un rejuvenecimiento vaginal para disfrutar una vida íntima más plena y llena de vida
KARLA GARCÍA
La actriz y cantante Sabrina Sabrok siempre está a la vanguardia e innovando cosas… y ahora se sometió a un rejuvenecimiento vaginal.
El procedimiento se llama HI-FU y hace que el conducto vaginal se estreche para tener relaciones sexuales más placenteras.
Después de meditarlo mucho, Sabrina Sabrok se realizó un rejuvenecimiento vaginal sin cirugía. Este se realiza con un aparato de radiofrecuencia que estimula el colágeno y la elastina del conducto vaginal. El tratamiento promete que después de 3 sesiones, Sabrina y su esposo gozarán más de su vida sexual.
"La verdad yo creo que no lo necesitaba, pero mi cirujano, el doctor Alexis Mujica, me habló del tratamiento, consulté con mi esposo y como nosotros siempre estamos dispuestos a probar cosas nuevas, decidimos hacerlo.
"Esta es mi segunda sesión de tres, las próximas será en 3 meses, y no duele nada, me sentí súper cómoda", asegura Sabrina.
El procedimiento duró 15 minutos e introducen un aparato alargado a la vagina y no se requiere anestesia.
"Yo siempre digo a todas las mujeres, que se hagan cosas para verse más bellas, cirugías y lo que sea que las haga sentir bien. Este tratamiento me parece superinteresante porque hay mujeres que han tenido hijos vía vaginal y pues todo da de sí, es parte de la naturaleza, así que si el HI-FU vaginal puede hacerlas sentir como antes de tener hijos, háganlo", recomendó Sabrina.
Las indicaciones médicas son muy sencillas, el único cuidado que deben tener es no tener relaciones sexuales 3 días.
"El proceso es supersencillo, sí me preocupó no tener sexo 3 días, pero ya que pase ese tiempo, grabaré mucho porno con mi esposo, yo quiero estrenarlo bien, y darle contenido a todos mis fans, en mi página OnlyFans y en sabrinasabrokvideos.com", finalizó Sabrok.
¡En el Hell and Heaven Kiss se despide del público mexicano!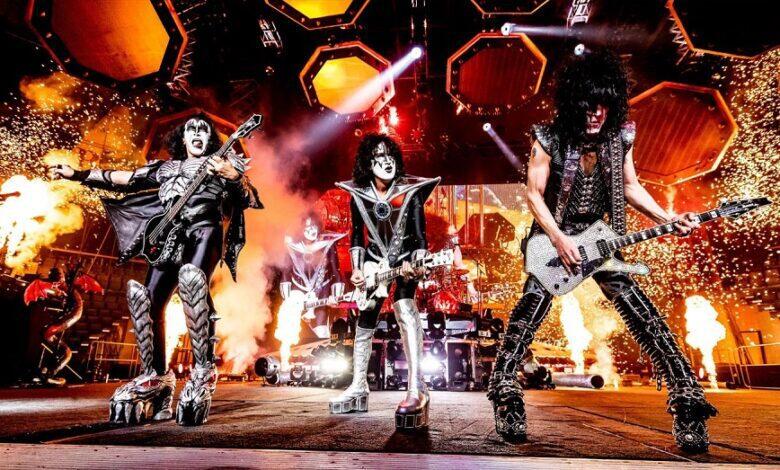 Prepárate para disfrutar un megaconciertazo de la banda más espectacular del mundo
JOVIRA
La participación de Kiss en el Hell and Heaven Metal Fest 2022 será un espectáculo de proporciones épicas, pues se convertirá en el adiós definitivo para el público mexicano.
Se trata de un show que será parte de su gira "End Of The Road Tour", la cual ya está agotando todas las entradas en Europa y pasará por Estados Unidos antes de aterrizar en nuestro país.
Los liderados por Gene Simmons y Paul Stanley le dedicarán una de sus últimas 100 fechas a los fans mexicanos, para agradecer el apoyo que les dieron por décadas y para hacerlos parte de un hecho histórico que marcará a la música y al rock and roll.
PANDEMIA PARÓ DESPEDIDA
La despedida de Kiss tuvo que ser detenida desde el 2021 debido a la pandemia, razón por la cual la aplazaron y agregaron más fechas a su calendario.
Fue en el 2022 que la banda retomó la gira y aunque muchos creen que ésta no será una despedida definitiva, pues ya se han despedido en el pasado, el mismo bajista de la banda, Gene Simmons, aseguró que se retiran "por respeto a los fans y a su carrera artística".
"La razón que tenemos para ya no hacer giras es nuestro orgullo y respeto por uno mismo, además del amor y la admiración por nuestros fans. Ya hemos visto muchas bandas que se quedan por demasiado tiempo. Terminan en el escenario olvidando las letras y puedes verles las arrugas", dijo Simmons.
Con más de 100 millones de discos vendidos por todo el mundo y el ejército de admiradores más grande de todos los tiempos, Gene, Paul, Ace y Peter han dejado una huella latente en la música que perdurará por muchos años.
Ésta será la celebración definitiva para todos aquellos que ya los han visto en el pasado y una última oportunidad para aquellos que no lo han hecho nunca.
Una ocasión única en la que podremos verlos de la misma forma en la que comenzaron hace 50 años: ¡IMPARABLES!
ADQUIERE TUS BOLETOS
Gracias a los miles de fans que nos acompañarán en una de las mejores ediciones del festival, los abonos preferentes de Fase 1 están agotados y cambiaron a Fase 2.
También puedes adquirir tu boleto por día en cualquiera de los puntos de venta físicos.
Recuerda que puedes comprarlos en: Fórum Buenavista, Mundo E y en las taquillas del Foro Pegaso.
También en línea: https://bit.ly/3AV9KmG.